Help strengthen the District's early childhood education system in 2022!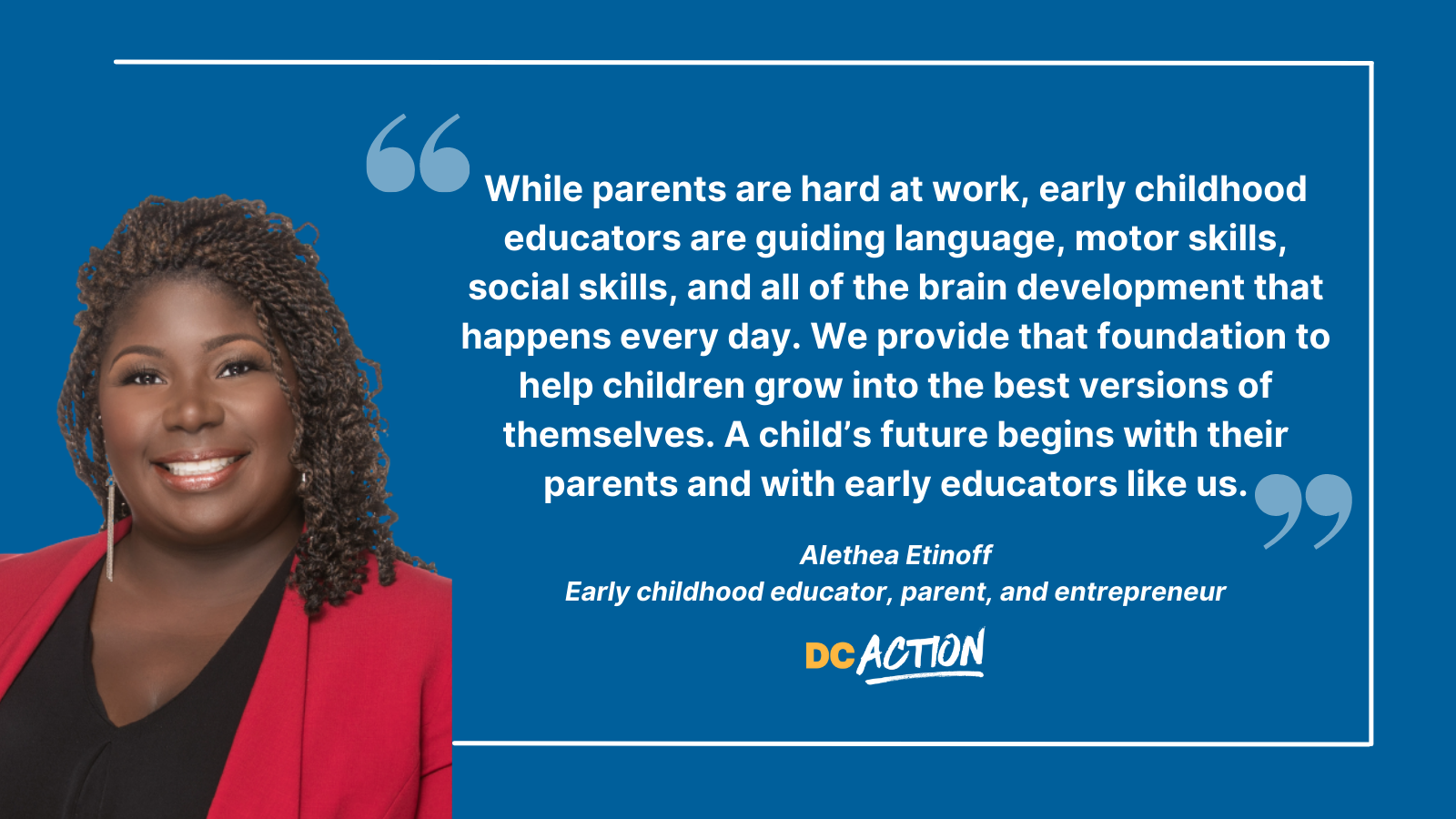 I am an early childhood educator, parent, and entrepreneur. I am also an advocate for a stronger early childhood education system in the District--one where early educators are fairly compensated for the essential work they do to shape our children's futures. 
It's well known that the most important development happens in a child's first few years. While parents are hard at work, early childhood educators are guiding language, motor skills, social skills, and all of the brain development that happens every day. We provide that foundation to help children grow into the best versions of themselves. A child's future begins with their parents and with early educators like us. 
During the pandemic, early education centers were classified as front line businesses that needed to remain open so parents could work, and the city could function. Yet early educators continued to struggle, many earning just above minimum wage. To support our own families, early educators often turn to Medicaid. We can't afford to save money, own a car, pay for health or life insurance, or build our credit. 
Thankfully, as a member of DC Action's Under 3 DC Coalition, I've been able to help improve conditions and opportunities for the District's early childhood educators. This year the Under 3 DC Coalition convinced the DC Council to raise taxes on the city's highest earners in order to increase compensation for early educators. This success will be life-changing for educators like me. But we're not done.
Join me in giving $22 toward helping DC Action strengthen the District's early childhood education system in 2022, so it works better for families, children, and educators. A child's future begins with their parents and with early educators like us. 
I will continue to advocate with Under 3 DC, but we need your help to win this fight.
I invite you to give $22 for 2022 to ensure DC Action and the Under 3 DC Coalition have the resources to further strengthen the District's early childhood education sector for educators, children, parents, and the future of our city.
Alethea Etinoff is the owner of Point Of Care Childcare, Point of Care Staffing and Training, and the voice of the The Business of Early Childhood Education podcast. Alethea is currently pursuing a degree in early childhood education at Trinity Washington University and is a Goldman Sachs 10k Small Businesses Fellow. She received DC Action's Early Educator of the Year Award (home-based) in 2021. 
---
About DC Action
DC Action is a nonprofit, nonpartisan, multi-issue advocacy organization making the District of Columbia a place where all kids grow up safe, resilient, powerful and heard. DC Action uses research, data, and a racial equity lens to break down barriers that stand in the way of all kids reaching their full potential. We are home to DC Kids Count, Under 3 DC, DC Out-of-School Time Coalition, the DC Home Visiting Council and the Youth Homelessness Advocacy Coalition. Our collaborative advocacy campaigns bring the power of young people and all residents to raise their voices to create change.
---
DC Action
1400 16th Street NW, Suite 740
Washington DC 20036
Copyright © 2021, DC Action, All rights reserved.